A Holiday Drive-Thru Experience!
Alliance Redwoods, Sonoma Zipline Adventures, and Bayside Church invite you and your family to experience your new Christmas tradition!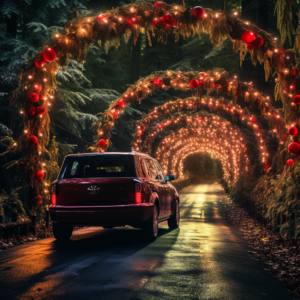 Join us for Christmas in the Redwoods, a holiday drive-thru experience. On the Bohemian Corridor of beautiful Sonoma County, you'll find the place where the majesty of the Redwoods meets the magic of the holidays, producing memories that will last your family a lifetime. The cottages, cabins, and coastal Redwoods of our property will be transformed for three weekends in December, into a holiday lights spectacular unlike anything you'd find in Suburbia. After your drive through this breathtaking Christmas forest, your family will then have the opportunity to meet Santa and Bigfoot, drink hot cocoa around a crackling fire, and enjoy the winter's night sky far from the glow of the city!
Free to Attend // No Reservations Needed!!
December 8th and 9th • 5:30PM to 8:30PM
December 15th and 16th • 5:30PM to 8:30PM
December 22nd and 23rd • 5:30PM to 8:30PM
Link to Downloadable Invite Slide for Churches and other Gatherings
Link to Downloadable "You're Invited!" Card Front